Shipping
All orders are dispatched from Australia by standard Air Mail and generally arrive within 14 days
How much does delivery cost?
We charge a flat rate of £7 for delivery regardless of how many CDs you order. 
Do you post the CDs to destinations outside the UK?
Yes we can send them anywhere in the world.  
We can offer a faster service to addresses in Australia, with dispatch from our Melbourne studios. Postage to Australia is charged at local rates.  You can also order direct from our Australian website at www.mysilverballoon.com.au.
Does anyone have to be at home to sign for the order?
Your order is packed in a bubble wrap mailer and should fit easily into a standard mailbox; no signature is required.
Can I have my order gift-wrapped?
We offer a lovely gift-wrap option: a purpose-made CD box with a card and the opportunity to write a personal message (of around Twitter length works perfectly!).  It costs an extra £3.50  but is well worth it, particularly if you are sending directly to the recipient.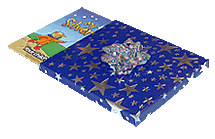 Can my CD be sent to a different address?
Yes.  We will still need your address to confirm credit card details but you can select a shipping address anywhere in the world.