Your child's name... sung in music 50+ times in our award-winning albums for babies and pre-schoolers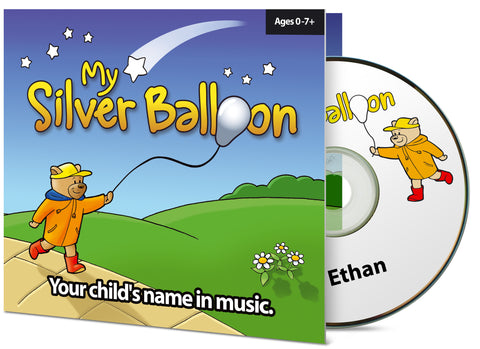 My Silver Balloon - Album 1 (The Original)
My Silver Balloon is a personalised music CD which contains your child's name sung throughout the lyrics.
Our original multi award-winning CD.  The perfect gift from birth to early school.
Hundreds of names to choose from. Click through for detail on all the tracks.
Buy Now for £14.95
My Silver Balloon - Album 2
A second great album with many of the familiar characters from Album One.
Perfect if you want to get a different one for a sibling, have twins to buy for - or just want more fabulous personalised tunes.
Slightly faster-paced than Album 1 but still keeping true to the Silver Balloon principles of educational and fun.
Buy now for £14.95
BONUS! download files now included free of charge
No CD player? No problem.  Every album includes the digital files free of charge. You can stream the music to all your devices and share the songs with your family and friends. And you won't have to wait until the CD arrives in the post. Details on how to activate the download are sent automatically with your order confirmation.
(NB: USB flash drive for illustration only - digital files are supplied as a download link when you place your order)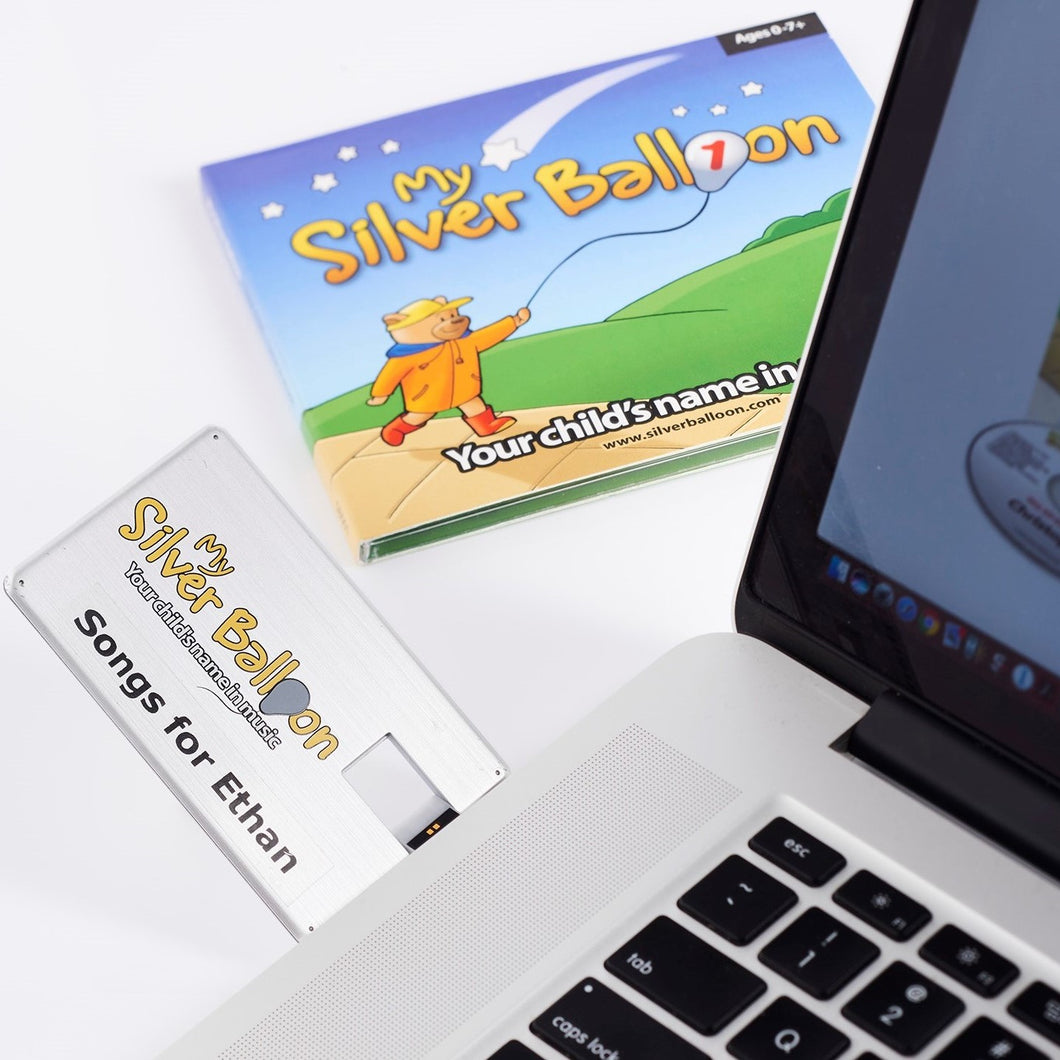 Personalised Songs for Children - Your child's name in music
Welcome to the home of Silver Balloon personalised music for kids. Your child's name sung in original music  in our fun and educational tunes. Please have a wander around the site, listen to samples, download your free songbook and send a CD gift-wrapped anywhere in the world (plus get to download the digital files to stream to any of your devices).
For £14.95 you will receive an album of songs with your child's name printed on the face of the CD and sung around 50 times in the personalised tracks.
BONUS!  the albums include a bonus bedtime story narrated by veteran Channel Four newsreader Jon Snow.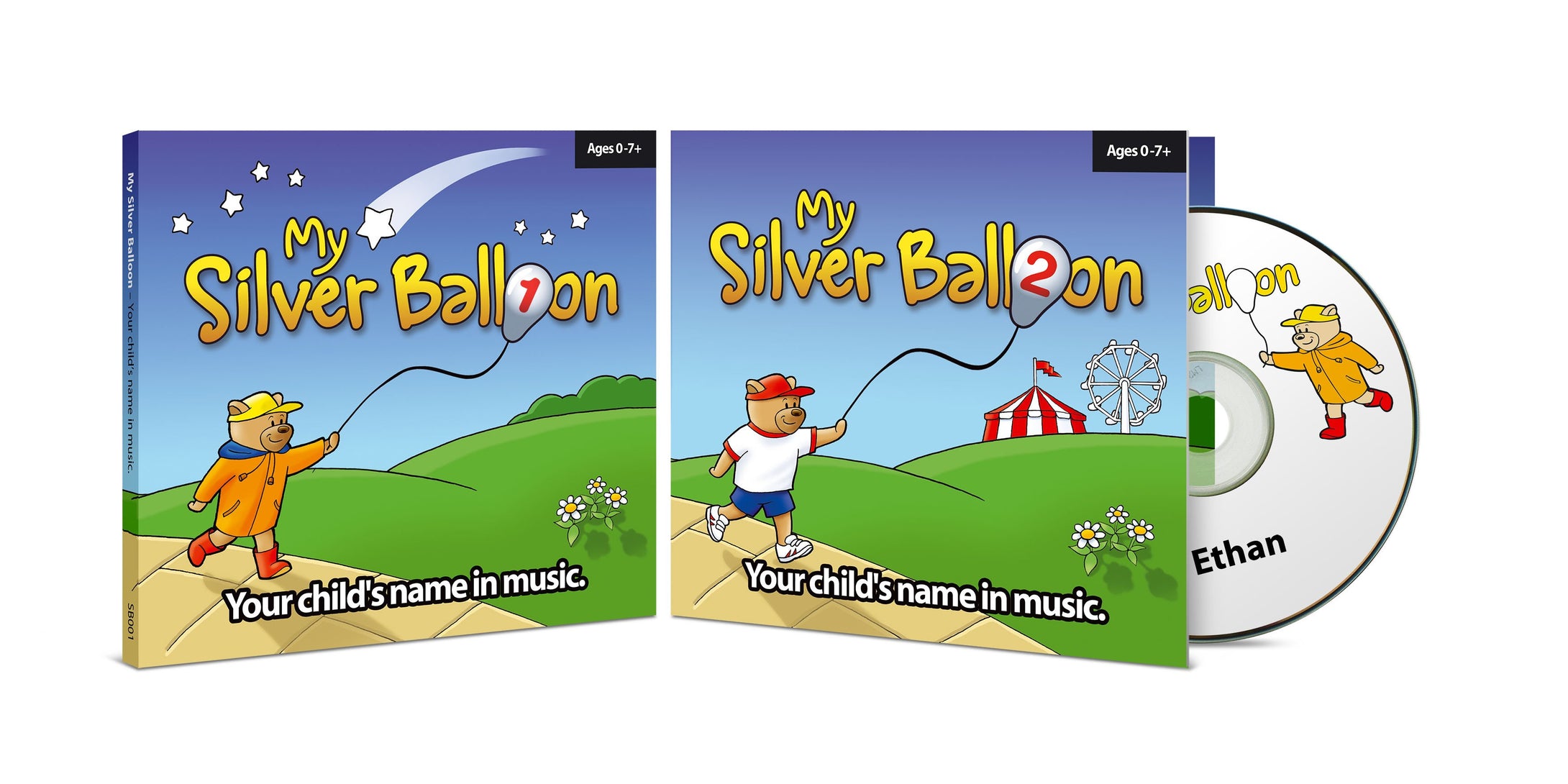 The perfect gift from birth to early school
Eight fun and educational tracks featuring your child's name sung more than 50 times.
The perfect gift for newborns, birthday, Christenings and Christmas.  The songs are suitable for boys and girls alike from birth to early school.
Please have a look around and support a great British company.
From birth babies love the music... From four months they recognise their name... as toddlers they understand the lyrics... until early school they will sing along...
Wake up with We've Got the Sunshine
Rumble in the Jungle with Tiggy the tiger and Heavy the hippo
Exercise with Doogie the Barndancing Dog
Learn the ABC and 123
Drift off to sleep with the beautiful Spaceman's Lullaby
PLUS! a bonus bedtime story narrated by the Channel Four newsreader Jon Snow.

Read to buy now?  CLICK HERE to place you order.
Ready to buy?
CLICK HERE to be taken direct to the product page where you can place your order for one of our personalised albums
The perfect gift from birth to early school...
It's a challenge deciding what to get as a gift for a young child.  Will the parents hate it? Is it age-appropriate? Will it last more than five minutes?
Buying one of our Silver Balloon CDs ticks lots of boxes: they're educational AND fun, they can be enjoyed by the whole family - and the child never forgets the music or who bought it for them.  
And we know that because we are now meeting young adults who were given a Silver Balloon CD when they were babies - and many of them tell us that their parents insist on dragging the album out every birthday just to embarrass them!
The female vocalist on both albums is a professional musician and a music teacher. Before we recorded the albums we consulted early years and primary school specialists to ensure that we hit the mark not just for the fun value, but also the educational content.
Don't forget to download the songbook with all the lyrics so you can sing along (perfect too as a learning tool for older children as it encourages their reading and word recognition).
CLICK HERE FOR LOTS OF INTERESTING STUFF ABOUT THE ALBUMS
Oli is a fan
Oli is one of more than a million children worldwide who have grown up listening to our original personalised music. A glance through our names list will see that alongside British favourites, our catalogue includes a wide range of Irish, Scottish, Welsh, Australian, New Zealand and North American favourites!
The Silver Balloon story began 17 years ago with the birth of Ethan and some of our earliest fans are now parents themselves. 60% of our albums are sold to returning customers.
Our ambition is to produce quality music that kids love -  and that doesn't drive their parents too mad! We've focussed on recording the widest possible range of names sung in real time in professional studios by world class musicians.
My Silver Balloon - we've been papped!
Over the years we have received many accolades in the parenting and music press.
Silver Balloon is also the proud recipient of regional and national business awards for exemplary on-time delivery and go-the-extra-mile customer service. 
And we have "celebrity" fans aplenty: the youngsters at Buckingham Palace, the Beckham babies (Brooklyn and Romeo) - and even Tony and Gordon's little ones at 10 Downing Street, all grew up listening to Doogie the Barndancing Dog and the cheeky vocals of Channel Four newsreader Jon Snow narrating the bedtime story on both albums.  Davina McCall has bought dozens over the years.
READ MORE ABOUT THE MULTI-TALENTED TEAM BEHIND SILVER BALLOON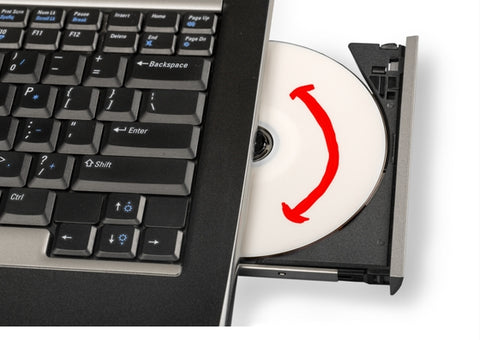 The digital future
When we launched we were encouraged to offer the Silver Balloon album on cassette tape because that's what kids still had in their bedrooms!  But we bravely went ahead with the CD format.  Fourteen years on and of course music has gone digital and we're all streaming mad.
Despite that, our customers tell us they still like to give a physical gift. And mums and dads seem to be using the CD as an upload device to get the tracks onto their preferred streaming service - and then leave the CD in their car players to keep the kids amused on long journeys.
Nevertheless, the folk at Silver Balloon have not been resting on our bottoms. We realise that CD drives are being phased out and so  we are offering the digital files for streaming free of charge when you place an order for a CD. You will receive details of how to download the digital version in your order confirmation email.
Testimonials
a superior example of the genre... bringing bright smiles to the early morning breakfast table

The Observer
This CD was the highlight of Christmas ! Our 18-month-old granddaughter loved it immediately, realised the singer was calling to her personally, and insisted on us all dancing round the room with her. Many thanks for a great idea.

Eileen Wallis, Hertfordshire
This is the third one I've bought for friends' new arrivals. The parents are over the moon. The babes love it and I was told it stops tantrums!

Leonarda, Kent